corvis.web » agility
Corvis started agility training in late 2003, but it didn't really start until his return to Pittsburgh in January. He has trained at Splash & Dash Agility, completing Beginner 1,2; Intermediate; and Begining Gamblers so far. He has started to trial. This is the photoalbum for such things.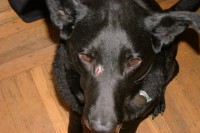 22May2004
| Total images: 14 | Date added: 22.05.2004


Corvis' first attempt at judged agility. A NADAC trial in Valencia, PA. Day 1, entered in Novice Jumpers and Novice Gamblers. His behavior at the event was exemplary, except in the ring, which was more filled with expletives. He punked out at the starting line of each try.